Last Saturday, we were supposed to fish for Mamali (Threadfin) but when we reached the launch area, it started raining and the wind picked up. The boatman politely said that it will be impossible to fish due to the waves plus we will be miserably wet for the entire night. So, we ended up in QC drinking beer all night. I was planning to go to ANP to scratch the itch the following day but because of the hangover, I still was not able to.
Come Monday, the itch was unbearable. I got an SMS from Bong and he also felt the same. So, in an instant, we cooked up a recon up North. I called in sick (Sick from uncontrollable urge to fish). When we were about to leave, we SMS'd Miko about our plan. The guy hurriedly went back home from his office and sneaked a pack of lures, a couple of reels, and a Rod. While waiting for Miko, we studied a map that I put together from Google maps and identified spots that we can recon.
We left Manila at around 11am. Our plan was to go to Candaba swamp area. But upon passing Pulilan, we decided to stop and check the Pulilan river. We rigged and fished for around half an hour. No fish but the place was a super nice and has lots of potential. Unfortunately, the bank was too steep for casting and we needed to find some other spot in the river that is fit for lure anglers. When we were about to leave for Candaba, we realized that it was too late and decided to just scout for snakehead spots nearby. After an hour or so, we ended up in Calumpit.
When we passed by the Calumpit river, we spotted some fishes feeding on the surface and we immediately drove near the river bank to check it out. We tried different lures and casted near the bridge. Unfortunately, no takers.
At around 3pm, we hooked up with Gil and his son Isaac. We scouted a potential spot that Gil saw way back. We were not expecting too much action because it was getting cold and the wind had picked up. We threw frogs and there were no takers. Around 3:30, Gil got first blood from a spinner. Almost a kilo Snakehead. When Gil showed us the fish, everyone got excited and rigged our gear with spinner baits.
To make a long story short, we landed 22 Snakeheads in three hours. Hooked twice that number and had countless strikes. And we only fished a small section of the marsh land! It's not even a quarter of the entire area.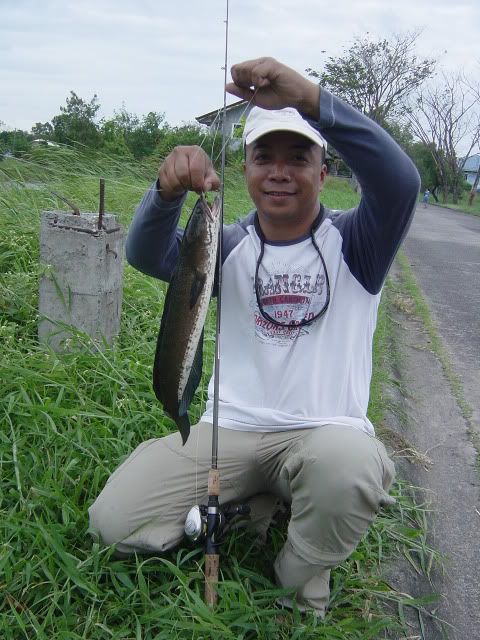 These fishes got badly injured so we decided that these should be taken home. The rest were released to fight another day.